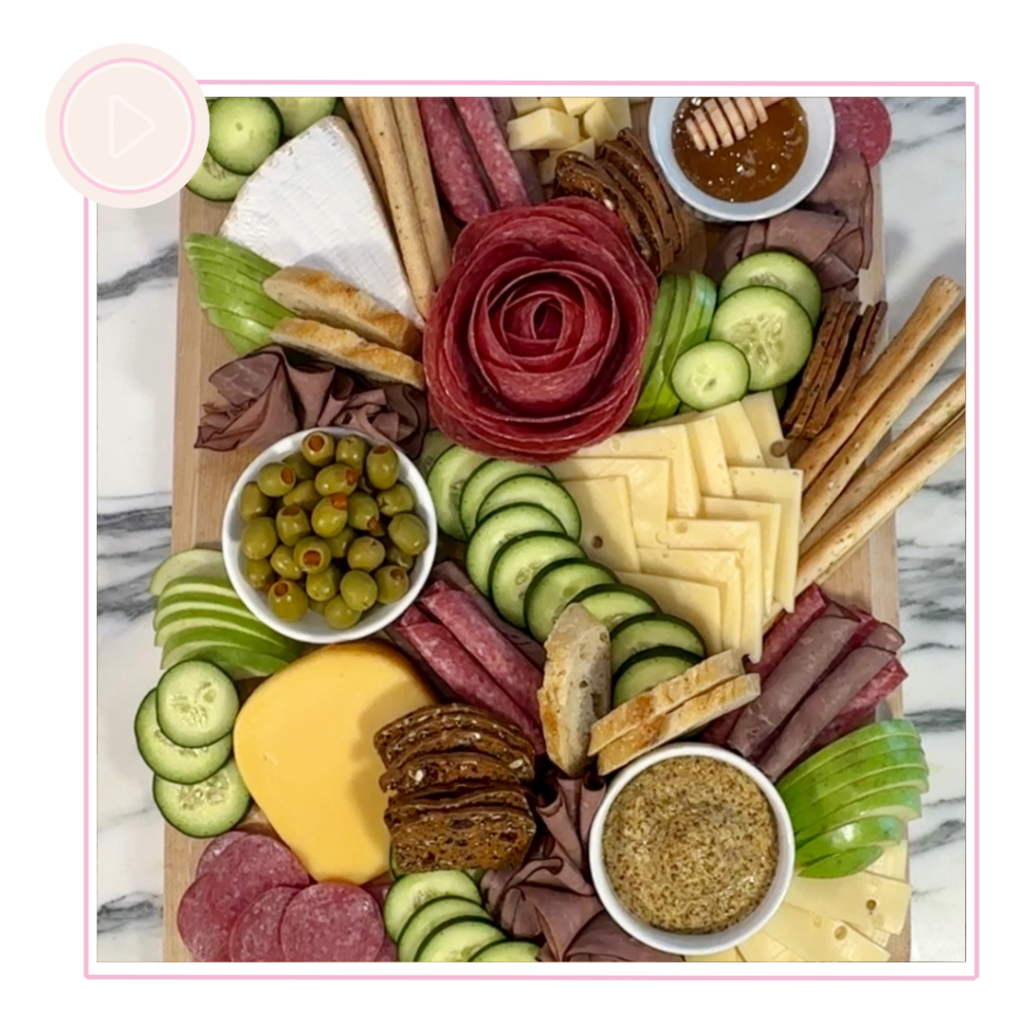 🧀💰MONEY SAVER: $30. CHEESE BOARD HACK 🤯❤️ Did you know the average cost of a large charcuterie board spread runs between $100-$200?! NEARLY 7x the price of a large turkey 😳 That's significantly more than the rest of the meal combined! Here's how to create an AMAZING board for 70% – 85% LESS! 🥰
LORAfied 1 + 2 + 3 Cheese Board Recipe:
1 condiment (pick 1 or more: grainy mustard, honey, fig jam) 2 different crackers (or baguette) + 2 fruits and/or veggies 3 different cheeses & 3 different meats *Optional add-ons: nuts, dried fruit or olives, which I used
Budget Board Shopping List:
Smokey Gouda: 2.99 (Aldi)
Swiss: 2.00 (Walmart) (cut into 3 shapes – slices, triangles, mini triangle chunks)
Brie: 2.97 (Walmart)
Olives: 2.23 (Walmart)
1 Cucumber: .74 cents (Walmart)
1 Green apple: .64 cents (Walmart)
Bread Sticks: 1.90 (Aldi)
1 speciality cracker: 3.59 (Aldi)
Baguette: 1.65 (Aldi)
Hard salami: 2.78 (Walmart)
Sliced salami: 4.92 (Walmart – used for salami rose)
Roast beef: 3.64 (Walmart – 1/2 package rolled into cigars, 1/2 folded into ribbons)
From my pantry: Honey Grainy Mustard
Shopping Tips:
-The stores with the best prices on cheese are Aldi, Costco and Walmart (30-40% cheaper)
-Skip the specialty section and head to the regular dairy case. You'll save 500%!
-Generic brand cheese is usually the same quality as their pricey counterparts
-Skip "fancy" crackers. Pick up a baguette and slice it your self for a fraction
-Fruits like apples and veggies are great substitutes
-Skip the specialty meats and go for the sliced deli meats instead. Roll & arrange yourself
-Turn the regular salami into a rose as seen above
What cheese do you dig into first on a cheese board? Comment and LMK! Mine has to be Brie ☺️
---
💗 FOLLOW ME
Instagram | TikTok | Youtube | Pinterest
LORAfied life hacks, recipes and more!