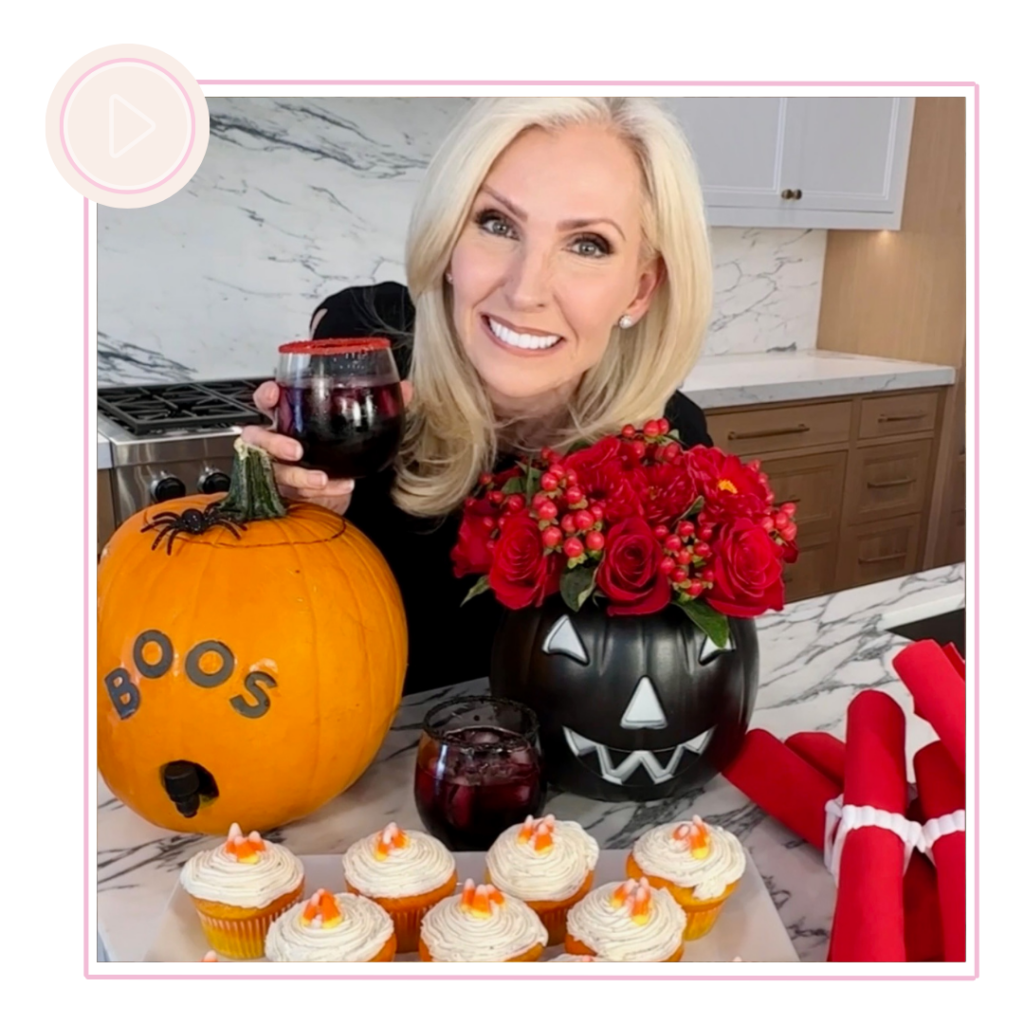 🎃🥳 LORAfied HALLOWEEN PARTY HACKS: MONEY SAVING TRICKS + TREATS 🧁👻
How many of those plastic Halloween buckets are in your attic or garage? I found 7 in mine 😂 Here's what to do with those little guys and 4 more EASY HACKS to make your pumpkin party a real treat 🥰
Candy Bucket Flower Vase
This is one of my favorite Halloween hacks! These plastic candy buckets can easily be transformed into a festive flower vase. Easy to do and cute as decor!
Pumpkin Drink Dispenser
This creative DIY drink dispenser will WOW your guests! Just trace around a bowl for the perfect opening. Grab your mixer, and only using one beater to clean out the inside. This part is strangely therapeutic! Then, grab a cookie cutter and make an opening for your boxed wine (just pull the tab out of the opening.) To rim the glasses, add a little simple syrup and some colored sugar.
Spider Ice Cubes
These spider ice cubes are so fun! Grab a pack of 50 HERE from Amazon for under $10!
Vampire Teeth Napkin Holders
How cute are these vampire teeth napkin holders?! Grab this set of 12 from Amazon!
Candy Corn Cupcakes
Ingredients:
1 box white cake mix (16.5-oz)
3 eggs
1 cup water
1/4 c. Avocado oil (or oil of choice)
2 tsp. vanilla extract
Yellow color: 1 Tbsp. yellow food coloring
Orange color: 1/2 Tbsp. yellow food coloring + 1/2 Tbsp. red food coloring
1 can white frosting (I used Miss Jones Baking, it's a nice pure white color)
Directions:
Preheat oven 350F
Mix up the batter, then divide between 2 bowls
Add yellow food coloring to one bowl, and the orange to the other, stir until completely combined
Scoop yellow batter into cupcake liners, followed by and even amount of the orange
Bake 18 minutes, cool and frost with white frosting
Makes 12-16 cupcakes
Are you a candy corn fan? Comment and LMK! My family is divided, Kid 3 and I aren't fans, but admit, they sure are cute 💛🧡🤍
---