Hi everyone! I have 3 MORE kitchen hacks/ tips to share with you today and I have a feeling you haven't heard of these before. You'll get some ideas for what to do with leftover coffee, a recipe for what I call Magic Seasoning, & you'll learn how to make the perfect scrambled eggs!
CLICK HERE for 3 more of my kitchen hacks to try
FOLLOW ME INTO THE KITCHEN!
LEFTOVER COFFEE RECIPES:
Do you find yourself tossing leftover coffee? It seems like I do most days, no matter how hard I try to guesstimate what we'll actually drink. Instead of pouring it down the drain, try adding it to these recipes!
Baking: brew up a batch of brownies! Sub equal parts coffee for water when baking, especially brownies or chocolate cake to enhance the flavor.
Salad Dressing: replace 2/3 of the vinegar with coffee.
Coffee Balsamic Vinaigrette: 2 tablespoons leftover brewed coffee, 
1 tablespoon balsamic vinegar
6 tablespoons extra virgin olive oil
, 1 tablespoon honey dijon mustard
, salt & pepper.
Add all ingredients to a jar and shake well. Store in refrigerator.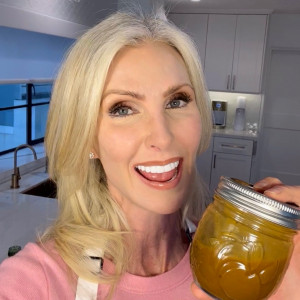 This recipe was inspired by Charleston Coffee Roasters! 
MAGIC SEASONING RECIPE: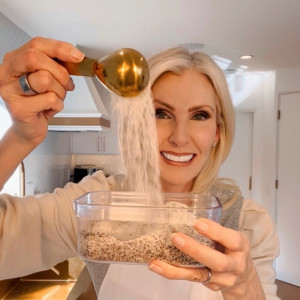 Do you struggle to season your food? Growing up there wasn't a meal at a restaurant my mom, Norma Jean, didn't comment on, giving it a pass or fail grade on it's seasoning level. She's always had the Midas touch when it comes to cooking and now we can too thanks to what I call Magic Seasoning!
Here's the DIY blend my mom gives an A+:
1 cup salt, 1/4 cup ground black pepper, 1/4 cup garlic powder. Combine well & store in an airtight container. Use in ANY savory dish!
THE PERFECT SCRAMBLED EGGS
Are your scrambled eggs too dry? Too runny? Too flat? Here's one of my favorite egg hacks! Best of all, the clean up is a breeze! Boil some water, grab an egg and meet me at the stove.
Start with 2 well beaten eggs. Add salt to some boiling water, stir, pour the eggs in & cover pot. Less than a minute later, spoon out your perfectly scrambled eggs!